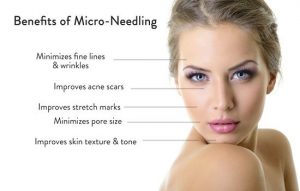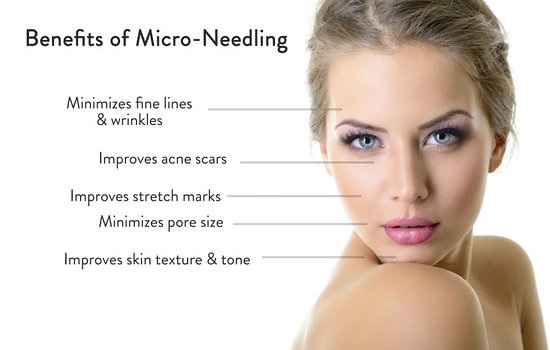 What is micro-needling?
Micro-needling has been heralded as a non-invasive way to achieve youthful, dewy looking skin.
It's a treatment whereby a device with small needles is pushed or rolled over your face and neck area to create controlled punctures, which force your skin into repair mode. Those with a fear of needles shouldn't discard this technique straight away as, depending on the device used, the microneedle length can vary from 0.5 to 3.0 mm, which is incredibly tiny compared to a traditional needle. And, these devices are gentle enough to be used around the delicate eye area.
What are the benefits of micro-needling?
When your skin starts repairing itself it turbocharges your body's natural ability to produce collagen and elastin, which provides that firm plumpness. It also helps improve skin texture, reduce the appearance of scars and stretch marks and creates a more youthful skin tone
What should you expect from a professional micro-needling treatment?
The procedure starts with your face being anesthetised with topical cream and has minimal downtime. The treatment can be tailored to your specific needs.
How many and how often will you need to have a treatment?
The number of sessions depends on the skin condition, but typically you're looking at 3-5 treatments in 4-6 week intervals with maintenance treatments every 6-9 months,
—
Collagen Stimulation Therapy (CST)
What is CST
Collagen Stimulation Therapy is an innovative new treatment that harnesses the body's natural powers of healing to tighten skin and achieve incredible results. It is especially effective for addressing lines and wrinkles as well as sun damage, scarring, slackened skin, stretch marks, uneven skin tones and dilated blood vessels.
Collagen Stimulation Therapy can be done on all areas of the face and body and is suitable for all skin types.
The principle behind Collagen Induction Therapy is simple: to stimulate the body's production of collagen. This is accomplished by causing a minute injury to the dermis, which results in the start of the wound healing cascade.
A sterile roller with micro-needles is gently passed over the area to create channels into the deeper layer of the skin. This creates minute injury to the dermis, which results in the stimulation of the body's own production of collagen.
Proven results with this procedure are that it can stimulate the collagen production in the dermis up to 1000% in one given treatment. In addition to that it can increase the absorption of biological products up to 10 000 times in a single use.
How long will a treatment take.
Clinic procedures can take from forty-five minutes to an hour, depending on the area to be treated. Results can take three to nine months to fully appear as the body takes time to generate new collagen. The client or patient sees continual improvement.
A controlled study has shown that new, naturally produced elastin and collagen fibres are visible 6 – 8 weeks after the treatment.
A crucial part of the treatment is the preparation of the skin prior to the procedure with topical vitamins A and C.This significantly reduces down time and client discomfort. It is very important that clients continue using topical vitamins for at least six months post procedure to ensure the production of healthy collagen and elastin.
The beauty of this treatment in contrast to conventional treatments like laser resurfacing or peels, Collagen Induction Therapy is non-ablative and achieves results without burning or removing the superficial epidermis.
A CIT can be performed on ALL skin areas of the body except close to the eyes. Unlike ablative procedures a CIT can be performed repeatedly to achieve desired results.
Depending on your skin condition, and to achieve maximum possible results, it is advised that the client complete a treatment Course of 6 to 12 treatments with a 4 week interval between treatments. This will allow time for new collagen cells to form and for these cells to mature. As skin continues to age an annual refresher CIT should be considered. Between the CITs and after the last one, the client can support the results of the CIT by using the Home care roller system in combination with active products.
CIT is recommended for all skin types, it is not recommended for those skins with active or acute infections, chronic skin disorders, blood clotting problems, poor healing, a clear-cut keloid diathesis, active acne, active herpes, or skin malignancies.
Some advantages of CIT is that the treatment is not painful, cost effective, little down time, no damage to the skin, can be used on thin skin, can be used on laser resurfaced skin, can be used on all areas of the body, including cellulite, stretch marks, scarred tissue, thinning of hair and hair loss.