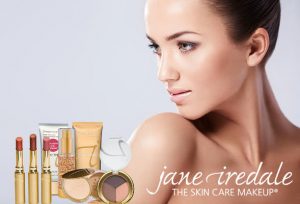 Jane Iredale Mineral Make-Up known in the industry as 'The Skin Care Make-Up' is the most technically advanced Make-Up in the world, recommended by plastic surgeons, dermatologists and skincare professionals. Favoured by Make-Up artists and celebrities alike, the range uses inert mineral pigments instead of synthetic colours and is completely free of artificial preservatives, perfumes, fillers or parabens, which is perfect for even the most sensitive of skins.
What makes it so popular is its staying power, easy application and the comprehensive selection of colours and products available within the range.

Bridal Wedding Make-Up Including Trial 2 hours 30 minutes £150
Bridal Wedding Make-Up Trial 90 minutes
The trial is an integral part of the wedding Make-Up service essential for your own peace of mind. Our highly skilled therapists will carry out a thorough consultation to discuss your requirements, colour schemes and offer professional advice, ideas and recommendations to ensure you are happy with the final application. Please feel free to bring any pictures, colour swatches or any of your favourite Make-Up products to help us create the perfect look.
Bridal Wedding Make-Up 60 minutes
Your wedding day is one of the most important days of your life, so take the stress out of applying your Make-Up yourself and leave it to our expert therapists. We will re-create the same look finalised on your trial ensuring the end result will be perfect, allowing you to relax and look forward to your big day.
We are also pleased to offer a call out service on your wedding day. All call outs are charged at £1 per mile (including the therapists return journey).
Special Occasion Make-Up 60 minutes £42
Using a selection Jane Iredale Mineral Cosmetics your perfect look is created for that special occasion.