Lisa Mann Beauty Salon in Totnes Devon
Latest treatments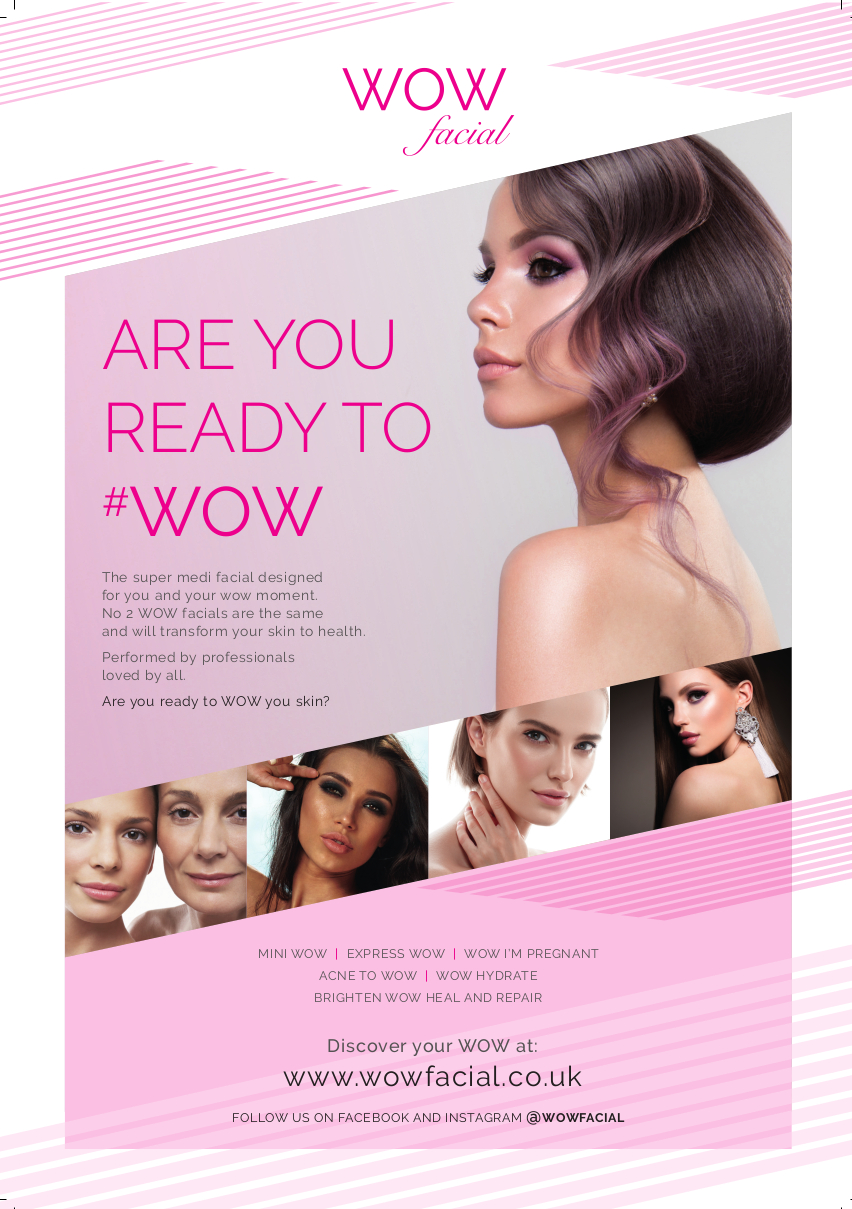 The 6 Stages of the WOW Facial?
WOW Cleanse and Resurface
Our specially formulated AHA cleanser removes all make up and dirt and starts the exfoliation process preparing the skin for the resurfacing peels. In our range there are 4 scientifically designed and formulated peels, one of which will be the ideal one for your skin type making the WOW facial a truly bespoke treatment.
WOW Dermaplaning
Lightly removing the peach fuzz and dead skin cells to reveal the youthful glowing skin beneath and improve the penetration of the WOW fusion serum.
WOW Fusion
Here we design a unique skin care cocktail suitable for your requirements. Using a combination of hylaronic acid, multivitamins, minerals, amino acids and peptides. These are delivered into the skin via 20 tiny 0.6mm needles that are as fine as a human hair. Delivering active ingredients to where your skin most needs it to activate your skin at a cellular level. The WOW fusion stimulates collagen and elastin and hydrates, brightens and improves the texture and tone of the skin.
WOW Light
The most instagrammable section of the WOW facial. The WOW LED mask has professional strength blue, red and green LED colours to stimulate collagen and elastin, increase healing, killbacteria to improve acne prone skin and reduce sun damage and pigmentation. "Have you even had a WOW facial if you haven't put up a LED mask selfie on Instagram?"
WOW Mask
Super strength hyaluronic acid,collagen, argireline and RMCP complex. The WOW mask is a cult beauty classic and the inspiration behind the WOW facial. It is famous for reducing dynamic wrinkles and lines and surcharging the skin with hydration stem cells and peptides a truly wonderful mask and no wow facial is complete without it.
Finish, Protect and WOW
Your WOW facial practitioner will chose the ideal finishing solution for your skin to ensure your skin is treated accordingly adding an extra WOW factor. Hydrating eye serum and the WOW factor SPF50 is added as standard so don't leave the salon without them as your skin deserves love at home too.

Profhilo® is an effective and natural looking non-surgical facelift treatment, it is a new discovery in facial ageing addressing skin laxity, not just filling lines and wrinkles. Made of 100% HA (Hyaluronic Acid), it nourishes dermal cells and restores firmness of the skin. This treatment will hydrate your skin from the inside out, getting rid of any 'crepey' skin.
A skin laxity treatment, Profhilo® uses patented technologies engineered for 'skin remodelling', a revolutionary concept of 'curling' wrinkles rather than 'filling' them. It effectively stimulates the production of both your natural collagen and elastin to renew your skin from within.
Thanks to the unique characteristics of Profhilo®, skin condition can be visibly improved after just 2 sessions, with a 1-month interval, and only 5 injection points on each side of the face. Profhilo® can be used on a number of areas including the full face (including eye area), neck, décolletage, upper arms and hands and is suitable for practically anyone, men and women, from 30 years' old and with no upper age limit. A top-up session can be done 6-12 months later.
Profhilo™ treatment can help to:
Increase skin firmness and elasticity
Tighten and lift skin
Improve skin tone and texture
Rehydrated skin
Restore radiance
Pricing:  £450.00 ( Covers first two areas) & £250.00 per area thereafter
Anti-Wrinkle Injections (Botox® / Azzalure®) & Dermal Fillers
Many people have heard of this miraculous treatment for wrinkles and expression lines, but what is Botox? It is actually the trade name for a substance injected into the skin which is known to inhibit muscle movement and prevent wrinkles developing or worsening.
Botox injections are now one of the most popular cosmetic treatments in the world and celebrities including Madonna and Kylie Minogue are rumoured to use this procedure for aesthetic purposes.
How does Botox work?
Botox treatment works by blocking the nerve signals to the affected muscles around the injection site. The muscles become more relaxed and their activity is reduced, in turn reducing the effects on the skin such as lines. When injected into the problem area, it freezes muscle movement by blocking neuro-transmitters for a period of 4-6 months, so the treatment needs to be administered a few times a year to maintain the curative affects.
Where are fillers used?
Fillers are a gel-like substance that is injected into different parts of the skin. The depth of injection and consistency of the filler dictates the results that will be achieved: deep injections with firm fillers create volume and shape to the face, mid-depth injections with medium-firm fillers reduce the appearance of creases, superficial injections into the dermis with soft fillers help to smooth out wrinkles, plump and hydrate the skin.
It is also worth noting that fillers can be injected in different ways: using a needle or a cannula.  A cannula is a blunt tube that deposits filler underneath the skin and can be used to treat any part of the face e.g. tear troughs, cheeks, jawline or lips.
________________________________________________________
CANCER TOUCH THERAPY 
Lisa Mann Beauty Salon, Totnes, Devon is proud to introduce Cancer Touch Therapy treatments for those currently living with or recovering from cancer. Cancer Touch Therapy was developed, taking advice from trained oncology massage teachers, advisors within the oncology team at the Royal Cornwall Hospitals Trust and Macmillan.
The Cancer Touch Therapy Spa treatments available at Lisa Mann Beauty Salon include the nurturing and calming 'Hand on Heart'™ treatment for the head, face, back and shoulders, 'Catch the breath'® back and head treatment and the 'Soothe and Nurture'™ organic facial.
The treatments all use award winning, ethically accredited Made for Life Organics products.  Hand blended in Cornwall, the products are infused with natural botanicals and are delicately scented and do not contain any synthetic chemicals or parabens. The therapy provides a safe and beautiful way of providing guests with a remarkably comforting experience, allowing an opportunity to truly relax.
CMA accredited Cancer Touch Therapy training course has given the exceptional therapists at Lisa Mann Beauty Salon the skills to confidently open their doors to anyone going through cancer.
Fantastic article featured in Devon Live :https://www.devonlive.com/news/devon-news/double-lung-transplant-survivor-first-1472038
Don't forget about our new Luxury Manicure and Pedicure area, come alone or with friends and have all your treatments together.
We offer the very latest in industry treatments using state of the art machines complimented with award winning products in our Salon in Totnes, Devon
Lisa is not your average beauty school graduate. She has an astonishing array of skills from the latest in laser hair removal to the most wonderful wrinkle zapping, skin plumping facials, avant-garde liposuction, wraps that fight fugitive fat and, of course, brilliant basics such as eye lash tinting.

It's rare to find someone who can crack so many issues, and back it up with healthy scientific know-how. Beyond this she is smart, sophisticated, funny, incredibly discreet and kind. She knows all the tricks of the trade and having her in your life is like finding a directory of top tips on how to look your best. What a find.
Spa and Health Editor – Conde Nast traveller – Daisy Finer





We are in the Nov/Dec issue of Brides Magazine, recommended as an expert!



Gift Vouchers are available in £5 / £10 & £20 denominations.
Vouchers are valid for 12 months following the date of purchase.
Vouchers are individually numbered and registered when purchased.