Plasma Blast PRP
Soft Surgery with Plasma Blast® is definitely one of our most interesting non-invasive procedures, a real innovation that offers an alternative approach to cosmetic surgery.
The Plasma Blast® device uses Fusion Plasma by applying the principle of ionisation of gases contained in the air to get a small electrical arc similar to a tiny lightning bolt.
This procedure makes it possible to treat dermal and epidermal areas affected by aesthetic problems, without communicating any unwanted heat to the surrounding areas.
Eyelid lift with Plasma Blast- excellent results without risks Many people affected by that excess skin on the eyelids, giving them a tired and "dated" expression, avoid facing a blepharoplastic procedure for fear of the anaesthetic or of encountering the possible complications that can follow the traditional procedure.
Non-ablative blepharoplasty, as the name itself implies, does not use scalpel or laser to remove the excess skin, thus avoiding the risks inherent in the traditional procedure.
This blepharoplasty technique is defined as "dynamic" as it allows the operator to invite the patient to open and close their eyes during treatment, thus highlighting the folds of skin still to be treated. This technique is also defined as "non-ablative" as it is performed without incision, without removing excess skin, without removing fat and without modifying the orbicularis muscle in the eyelids.
Treatment active acne and acne scarring Many people get acne as a result of hormone imbalances in their body, such as when they go through puberty, the menstrual cycle, when they are mentally or physically stressed etc. This imbalance causes the ducts that produce sebum to become clogged and produce micro cysts that are inflamed and/ or infected.
By using Plasma Blast® it is possible to treat the active acne with great results and without the use of medication. Scarring that is created by acne and other skin conditions or injury can be treated and removed by the treatment with Plasma Blast®. Depending on the depth and nature of the scars, the area may need between 1 and 3 treatments to completely remove the scarring.
In your initial consultation Lisa will be able to advise you with regards to the expected outcomes and the number of sessions needed.
Moles, skin tags, xanthelasma, warts At Lisa Mann Aesthetics we use Plasma Blast® that uses Fusion Plasma technology that can effectively remove all types of moles, skin tags, warts and verrucas. Plasma Blast®Soft Surgery can also treat xanthelasma in a totally non-invasive way, avoiding any form of complications, unwanted side effects or possible recurrences.
Removal of tattoos, skin discolouration, age spots Fusion Plasma treatment with Plasma Blast® is an excellent and effective procedure to remove tattoos, as well as skin discolouration including cloasma, melasma, vitiligo, sunspots, etc, through a simple procedure without the use of laser, acids or peels.
Post-Treatment After the treatment, the patient will feel a small amount of discomfort but can carry on with their normal activities. Any residual scabs will disappear within 7 days, but if you prefer, you can cover it with liquid foundation.
Today, we can finally say that the Plasma Blast® treatment offers all of the benefits that traditional surgery does not- including less discomfort to the patient, none of the risks of surgery, a far quicker recovery rate and substantially lower cost. To find out more about the treatments call us to book a free consultation.
Non-Surgical Blepharoplasty for hooded and droopy eyelids
What is it? For non-surgical blepharoplasty, we use soft surgery with Plasma Blast® which is a revolutionary and patented innovation, opening a new and exciting frontier in the fields of Medical Aesthetics. We are very pleased to be able to offer this technology as one of the first clinics in the UK
Non-surgical blepharoplasty is performed without cutting, without removing excess skin or fat and without modifying the orbicular muscle of the eyelids. This helps avoid all risks inherent to the traditional surgical intervention.
Plasma Blast®, is a device that forms plasma to sublimate the excess skin. It delivers its energy only on the superficial skin cells, without affecting deeper tissues, thus enables the perfect elasticity of the eyelid movement immediately after the treatment.
The result is immediate reduction of the excess skin on the upper or lower eyelid, as well as the shrinking of the excess skin in the external region around the eye. The benefits are also the improvement of the expression lines at the corner of the eye and the cheekbone ("crow's feet").
The procedure This blepharoplasty technique is defined as "dynamic" as it enables the practitioner to ask clients to open and close their eyes during the treatment. A typical session will last no more than 30 minutes and the tiny point-like crusts will fall off after 3 to 7 days.
Depending on the nature and extend of the excess skin and area treated you may need between 1 and 3 treatments, 4 to 6 weeks apart.
Patients may experience some swelling and soreness in the treated area following the treatment. Any residual crusts do disappear within 7 days, but can be covered with liquid foundation. During your free consultation, Lisa will discuss your suitability for the treatment and what you can expect
Treatment Costs:
Non-surgical Blepharoplasty – from £500 per session
Removal of Lines & Wrinkles – from £300 per session
Mini Face Lift – from £500 per session
Mole/Skintag/Xanthalasma Removal – from £150 per session
Scar/Pigmentation/Age Spot Removal – from £150 per session
Sceleotherapy
Sclerotherapy is an injection treatment that is used to reduce the appearance of unsightly red, blue and purple thread veins on the legs. This treatment is not available on the NHS as it is thought to be a cosmetic issue, but this can cause great distress in both male and female clients with them feeling unable to show their legs 'in public'.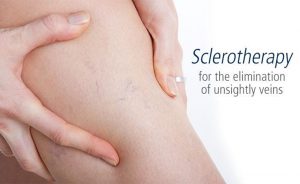 How does Sclerotherapy work?
The very small veins are injected with a prescription medicine of a sclerosing agent called Sclerovein and this causes the vein to collapse in on itself and be absorbed by the body. This process reduces the cosmetic appearance of these small veins. The process can take a few weeks to a couple of months before the full results are seen and depending on the severity and number of veins several treatments may be recommended by your practitioner.
Is Sclerotherapy permanent?
No – it is generally thought that the treatment will need repeating from about 18 months when new veins may start to appear, and another treatment is necessary.
How many treatments will I need?
There is a limit to the amount of treatment that can be done on each leg otherwise it can become extremely uncomfortable. If you require more than 1 x 2.5ml syringe in each leg, then it will be split into separate treatments due to the discomfort that could be felt after working on dense areas of thread veins. You can have as many or as few treatments as you wish as long as it is beneficial for the process.
Does Sclerotherapy guarantee to remove all thread veins?
Unfortunately, there are no guarantees that the thread veins will not return or new ones will not appear. The thread veins will have appeared over time from various reasons-lifestyle, hereditary, smoking, standing for long periods of time, sitting with bent or crossed legs etc. If you change the reason they appeared in the first place you have a better chance of them not returning or taking longer to reappear.
How much does it cost?
The treatment is charged per syringe (1 x 2.5ml or part thereof) At the consultation you will be advised of approximate cost and then it is for you decide whether you wish to proceed with the treatment. You will need to provide a pair of good quality support tights for on the day of the treatment as you have to leave wearing them. The minimum cost is £195 and then per syringe is £195 or part thereof
What is the Aftercare?
The aftercare is very specific and must be adhered to minimise problems after your treatment. A written set of aftercare instructions will be provided alongside your treatment but anything you are unsure of – just ask!!