Carbon Laser Facial
A carbon facial is a revolutionary laser treatment that is completely painless with minimal-to-zero downtime. It is highly beneficial for people with oily skin, blackheads, enlarged pores, dull skin, and acne on the face or body. It is also an excellent way to exfoliate and refresh your skin, providing an instant refreshed appearance and leaving skin feeling softer, smoother and firmer.
A layer of liquid carbon is applied to the skin, where it penetrates deep into the pores. Laser light is highly attracted to the carbon particles. When the laser is passed over the area, it destroys the carbon, taking dead skin cells, contaminants and oil with it.
This treatment provides several benefits.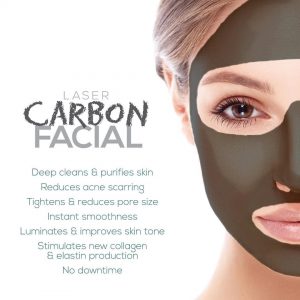 Cleansing:
Carbon has the ability to absorb oil and contaminants from deep within the pores. When the laser is passed over the treatment area it targets and destroys the carbon particles, taking any absorbed material with it.
Exfoliating:
As the carbon is targeted by the laser, it blasts away dead skin cells, blackheads and effectively exfoliates the skin. The result is softer, radiant skin with reduced pore size and a more even skin tone.
Rejuvenating:
Carbon peels also target the deep layers of the skin to stimulate collagen production, which in turn produces firmer, plumper skin, reduces fine lines and wrinkles, and leaves skin feeling tighter and glowing.
Acne and Oil Destroying:
The heat produced by carbon facials has 2 additional benefits. It reduces the P. Acnes bacteria responsible for acne, allowing for better management of pimples and outbreaks, and it also shrinks sebaceous glands (oil producing glands), resulting in less oil production, and therefore reducing congestion building up in the pores. Treatments can be performed on any part of the body, including the back and chest.
As with all skin treatments, carbon peels should be supplemented by a good skin-care routine, and daily use of a high-spectrum sunscreen. Noticeable results can be experienced after a single treatment, but for maximum long-term results we recommend regular treatments.
Treatment Costs:
1 session x 30 minutes £45.00
3 Sessions x 30 minutes £120.00
6 Sessions x 30 minutes £220.00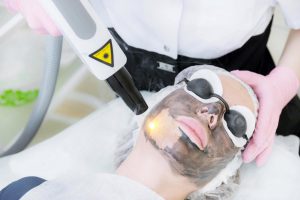 Laser Tattoo Removal Treatment
Laser tattoo removal is an advanced treatment designed to completely eliminate tattoos, without leaving scars or unpigmented areas of skin behind.
During a laser tattoo removal treatment, the laser's high energy light breaks up the tattoo ink into tiny particles, which are gradually absorbed by the skin. Laser tattoo removal may cause slight discomfort, though a local anaesthetic can be used to eliminate the pain.
Following a laser tattoo removal treatment, minor side effects such as red and tender skin may occur; however, these tend to diminish within three to seven days.
How Many Tattoo Removal Sessions Are Needed?
Each tattoo has different characteristics that influence the number of removal sessions necessary. These include:
• Size
• Colour
• Type of ink used
• Whether the tattoo is old or new
The number of sessions needed for laser tattoo removal treatment is primarily determined by the colour of the tattoo. Most tattoos are comprised of different colour families. Some tattoos can require between 15 and 20 treatments before they are completely removed. Turquoise tattoos are some of the most difficult to eliminate because there isn't a laser that targets the colour effectively.
In most cases, laser tattoo removal takes between six and twelve treatments and can be spread over several months or a few years.
Laser Tattoo Removal Cost.
The average laser tattoo removal cost ranges from £45 (small area per session) to £65 (medium/large area per session). The price is dependent on several factors, including the type, colour and extent of the tattoo. However, a full consultation beforehand will be undertaken, and guidelines given to potential number of sessions that may be needed, but it is not an exact science so fewer or more treatment sessions may be needed.